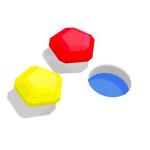 Wobble 3D
Train your brain and challenge your skills in a fun puzzle game named Wobble 3D. The rule is straightforward. You wobble a table to lead various ball to the holes. Each ball in each hole. It's simple to play but hard to master. The table in each level is different and the number of holes is also different.
At Y8 new games, as you level up, the structure of these tables become more complex. If in other games related to the ball, you directly control the ball and lead them to the destination, then in this game, you will wobble the game board makes the balls drop into the holes. Shake and wobble in every direction to fill all the holes with balls. Remember that once the ball is in the hole, you can change its position. Because you are able to control the game board, you will find it hard to lead the ball to the hole of your choice. Be patient to take control of the ball by shaking the game board.
On http://www.y8y8y8.games/, 30 challenging levels are waiting for you. You must finish the mission of the current stage to unlock the new puzzle. Remember that each hole just consists of a ball. This game board will be tilted to a certain limit, so you don't have to worry that these balls will fall down. Can you find the best solution for each puzzle?
Put your patience and your skill to a test with this easy to play but hard to master the game. If you want to horn your problem-solving skill in other puzzle games, just check out Color Couple Bump 3D and Rope Around
Instructions:
Swipe or use your mouse to wobble the game board.
www.y8y8y8.games
Rating:
3.3333333333333
out of
5
based on
3
user ratings