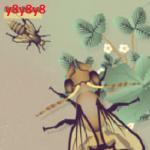 Monarchies.io
Monarchies.io is a multiplayer simulation game which is playable y8y8y8 games free. In this game, you become a queen honey bee who needs to command your workers to create a mighty army. You need to manage every aspect carefully, from gathering nectar to expanding the territory. Watch out for other bees and good luck!
Tips:
- Start the game in solo mode and play against the AI-controlled bumble bees. Your rival queen bee will have all the same abilities you do, so watching the way they play and imitating them is a good way to learn how to play.
- Pupae that hatch into worker bees belong to the nearest queen at the time of their birth, so make sure to push out any invading queens, and be there when your rivals are about to hatch their workers.
- Pollen brought to your hive is collected and turned into bee bread. Bee bread is brought to larva to turn them into pupae and starting their transformation into full-grown adult workers.
- Place your new hives on top of flowers to maximize the amount of pollen your workers collect.
- Before starting an attack with alarm pheromone, gather your workers into a bunch by first enabling 'Swarm' mode.
- Enable attack mode when wasps are around. Your workers will not do any damage unless you have toggled them to attack.
- Don't allow mites to invade your hive. They will kill your brood and reproduce. Push them away and toggle attack to quickly dispatch them.
- In multiplayer mode, get onto the leaderboard by keeping a large number of workers alive at once.
We also bring other discovery games similar to this game such as Wormana.io at http://www.y8y8y8.games/. Are you ready for your journey and become the best player in the game? Play this today.
Controls:
Use the WASD or arrow keys or left mouse button to move or interact
Number keys to do actions
www.y8y8y8.games
Rating:
3
out of
5
based on
2
user ratings