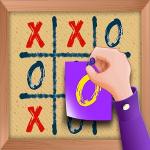 Tic Tac Toe Office
A very interesting alphabet game that has just been released is the Tic Tac Toe Office at y8y8y8 hot games. This is an online game that you can play for free on your computer or mobile phone. It would be great if you can play this game on paper at your office anytime, anywhere. What are you hesitating about? Let's go!
When starting the game you will have the right to choose players, you can play alone or invite your friends. In the game only two letters are XO. There are 6 formed squares, 3 vertical columns and 3 horizontal columns. In return, the alternating battles you might have are X, you can also fight later as O.
So your task in this game is to enter the game letters for you into the square in the table. If you create your 3 letters in a row then you will win this battle and bring yourself one point. But it is not easy to achieve that, you need to observe and be smart in how to put letters in order to get the best moves possible. There are a lot of games waiting for you to discover, to overcome all of you will definitely be the best player.
Don't forget to share this excitement with your friends and invite your friends to join the game Tic Tac Toe Offic to get moments together and get the chance to become the luckiest player. If you love this kind of game, you can join some similar games Frenzied Cube and Simple Kids Puzzle Relations at http://www.y8y8y8.games/
How to play:
use the mouse
www.y8y8y8.games
Rating:
5
out of
5
based on
1
user ratings