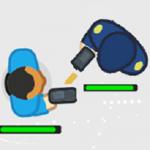 The Mafia Club
Welcome to The Mafia Club, where you can just shoot the crap out of other crooks and earn money for that. Main mission in game The Mafia Club at y8y8y8 game shooting is clear from beginning ofgame. You need to collect as much more money as possible and become a cool mafia. You need to rob banks, collect money and shoot from guards.
Enter the map of this cool, top-down multiplayer online IO game and become the most feared criminal the world has ever seen. You start as a crook, a cockroach in the world of the fortune and power, but as you keep collecting money and killing other players, you will become more and more powerful, using better guns and lasting more damage. Drive cars, shoot down gangsters and, most important, don't die. Have fun in The Mafia Club!
Also in the game The Mafia Club gradually increases game level of character. And higher level of mafia, more damage from his weapons. It is worth knowing that level of your health is restored gradually, but for this you need to hide in a shelter. Good luck and fun!
Hope you love this game and if you want to play other similar games, you can try AstroRace.io and MinGiants.io. Check out at our site http://www.y8y8y8.games and you can find many other interesting types of games. Enjoy your time!
Controls:
Use the WASD to move
The mouse to aim / shoot
Press Space to enter car
E key to place box
www.y8y8y8.games
Rating:
5
out of
5
based on
1
user ratings