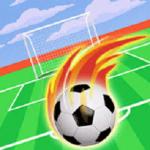 TeamBall.io
Go represent your country in the ultimate online multiplayer IO soccer challenge of TeamBall. The online football games can be just as fun as the real matches on the real field. Try out this updated version of io game from y8 io online that will spark the love for football inside you. You will join a random team and go represent your country to claim the title of the winning team.
Since it's an io game, you have the right to choose to play as a guest or register to save your progress. In this fun game at http://www.y8y8y8.games/, you have to move through the map looking for a field to play 1 vs 1, or team matches. Try to score some goals and win as many matches as you can in order to earn points and get your nickname and your flag right on top of the scoreboard. Register to unlock cool features, or feel free to play as a guest. Give it a try! Have fun!
In order to get a full team, you are required to wait until the expected number of players join you. Or just practice on your own from now! The best football players shall be the one who can score some goals and win as many matches as possible. These will help to earn points and put your nickname and your flag to the top spot of the Leaderboard.
Check out more games like this such as DinosaurGame.io and Pirate Battle .io for the best playtime online and make friends with people from all around the globe!
How to play:
Move with arrows, WASD or the mouse cursor
Shoot using the spacebar or the right click
Use Q or Left click to sprint.
www.y8y8y8.games
Rating:
3.5454545454545
out of
5
based on
11
user ratings