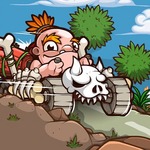 Stone Age Racing
Have you ever wondered how racing would be in an age long forgotten? Well, you need to know that people in the past truly know how to entertain just like us today. They have their own style to enjoy the speed. If you are curious about it, let's join Stone Age Racing and experience the way they raced. You will be surprised for sure. Well, this y8 games online brings you back in time and allows you to control various special vehicles in many unique tracks. It lets you play against AI or other players all around the world.
Choose the mode that you want to enjoy. You will start with a simple prehistoric racing car. As the game processes, you can purchase new vehicles and upgrade their stats and abilities to win over your opponents easier by using the gems that you collect along the way. Find other racing games of 2018 at http://www.y8y8y8.games/racing-games
Each type of car has a different style and set of weapons. During the race, you can get various power-ups which help you speed up or avoid obstacles. You can also use your weapons to destroy your opponents with games y8. Yes, it's not fair play but people in the past like to use tricks. Stone Age Racing features many rocky racing tracks, special vehicles, unique weapons and endless amounts of fun that you can't find in other racing games. Explore the Stone Age and have a great time at http://www.y8y8y8.games/. There are also various awesome choices for you to play at y8y8y8.games. Don't miss out M-Acceleration Enjoy!
Instructions: Use up arrow key or W to accelerate, down arrow key or S to brake, AD or left/right arrow keys to tilt upwards and downwards, Spacebar to use Nitro boost, 1,2 & 3 keys to use weapons.
www.y8y8y8.games
Rating:
3
out of
5
based on
2
user ratings