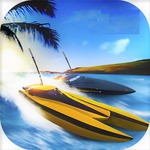 Speedboats.io
Learn how to survive in the ocean when you fight enemies at Speedboats.io game online in the y8y8y8 school games website. This game has fascinated the different players passionate about the action and conquest games. The ships at the sea join the war of survival. Players must move skillfully so that they do not hit the rock and sink the other ships without being shot again. If you are shot, the game will end.
Take time to defeat your opponent before your ship sinks. Each time you shoot another ship, your score will increase. This is a long battle. You also have the opportunity to participate in other games such as Slither.io or Wormax.io on http://www.y8y8y8.games!
Each game becomes with the interesting things, so don't forget to discover all the fight and keep yourself some skills to enter the new world. Do not forget to watch the bigger boats shooting you. You can pay attention to the track and know the correct direction to move the boat and shoot the enemy.
Your main task in this game is to control the boat and win the battle. Y8y8 kids games help you to play this Speedboats.io game like an adventure without annoying ads or other difficult things. Start your journey around the sea and become the best boat today. How do you feel?
Controls:
Use the AWSD or arrow keys to move
Click the mouse to shoot other boats on the sea
F for full-screen.
www.y8y8y8.games
Rating:
4.6428571428571
out of
5
based on
14
user ratings