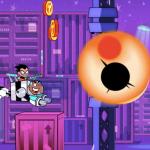 Rescue Of Titans
Rescue Of Titans is a great combination of adventure, shooting and action game in which you cooperate with Teen Titans Go team to defeat an evil force. If you love Teen Titans Go series, here at y8 games unblocked, you will have a chance to meet them and be with them on an important mission. Robin, Starfire, Raven, and Beast Boy have been kidnapped by an evil doctor. This man is trying to rule the world with his powerful army. Your mission is to help Cyborg rescue Robin, then along with two of them save the others. The first member you will save is Robin, then Robin rides on the back of Cyborg and goes to rescue other members of the team.
Cyborg auto flies ahead but you can control and change his direction. Robin will shoot at target along the way. The evil sends many robots to kill Robin and Cyborg. You have to help them shoot down all of them and dodge the attack of the enemies and save each member of the team one by one on y8 game new The game offers 16 levels full of challenges and fun. You can collect some power-ups on the way and earn more useful items by watching ads. Try your best to free our heroes and defeat the final boss.
With all members have assembled, this evil force will be eliminated once and forever. Cyborg is waiting for you and our lovely heroes are also waiting for you. Play, enjoy and discover the surprising things in the game. Don't forget to check out Galaxy-Warriors and City Building Simulator
How to control: Arrow keys to move and WASD to aim and shoot.
www.y8y8y8.games
Rating:
5
out of
5
based on
1
user ratings