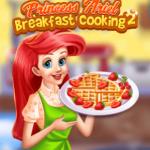 Princess Ariel Breakfast Cooking 2
Do you need something look great and taste delicious for breakfast? Ariel is great at cooking and she will show you and instruct you to make a great breakfast meal. It's tasty, awesome and nutritious. You will get full of energy for a busy day with these dishes. Let's wear an apron and start cooking following each step that Ariel does in Princess Ariel Breakfast Cooking 2. The menu for breakfast today includes a waffle with fresh fruits, 2 sunrise eggs and some slices of bacon and a cup of hot coffee. Roll your sleeves and let's go.
First, you make a waffle. This recipe is simple but delicious. At y8y8y8 games for girls, you need mix egg, sugar, milk, gluten, butter in a big bowl. Mix it well. You put some butter into the pan and heat it up. Then, pour melted butter into a waffle maker. Melted butter prevents your waffle stick to the waffle maker. Next, you pour the well-prepared mixture and wait until 2 sides of the waffle are golden-brown.
Now, you just need to garnish your waffle with fresh fruit of your choice such as blueberries, strawberries, some slices of kiwi and more. The second dish on http://www.y8y8y8.games/ is eggs and some slices of bacon. Easy to make, melt some butter, break 2 eggs and add some slices of bacon. When it's cooked, you place them into a plate.
Finally, the coffee maker will help you make a cup of hot coffee. This menu is simple to make, right? You can cook alone without Ariel helping. Enjoy other cooking game such as Crazy Mommy Nursery Time and Elsa Little Chef Rainbow Baking
How to play:
Use your mouse to cook.
www.y8y8y8.games
Rating:
4
out of
5
based on
2
user ratings