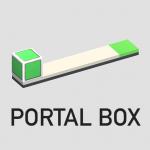 Portal Box
The puzzle game is one of the best game genres that attract many players around the world. If other action-packed action games give you a thrilling experience when playing, puzzle game trains your mind and help you relieve stress. And Portal Box is the latest choice at y8 unblocked that you must try. This game doesn't require you to spend time learning how to play or planing a strategy and so on. You will hook immediately and keep playing until you reach the last level. Everything in this game is simple and easy to understand.
From the first level, you will know what you have to do. So, your mission in each level is to lead a green box reach green tile. You control a green box to move on a random direction on a different map in each level. The box won't stop moving until it comes to the end of the edge of that direction. You want to move just one step or two steps, but you can forge this box to do that. Just find the best path to help the green box come to the destination. As you level up, you have to use some objects to help you out. However, find out how to take full advantage of these objects isn't easy. The puzzle becomes tricky overtime on unblocked y8 games
However, it doesn't offer any hints. You only can depend on yourself to solve the puzzle. Don't get fooled by its look. It seems to be simple but hard to master. Have fun and enjoy more great gaming moment in Frenzied Cube and Jump Box Hero
How to play: Use Arrow keys to move the green box.
www.y8y8y8.games
Rating:
2
out of
5
based on
1
user ratings