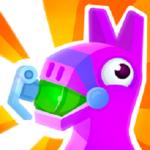 Pinatamasters Online
Pinatamasters Online is a fun idle action game in which you beat the stuffing out of these evil pinatas trying to make you crazy. It requires minimal effort but brings hours of fun. It suits all ages and helps you release stress effectively. At y8 girls games dress up, your main objective is to destroy colorful pinatas by using a variety of weapons such as sword, gun, rocket launcher, dynamite and so on. Pinatas are the container filled with candies or toys that often appear in the celebration events.
Kids or people cover their eyes and try to smash the pinata until it's broken by using a stick. Now, in this game, you won't have to wait for any celebration events to smashing it, just destroy tons of pinatas every day. However, it's not easy to destroy at all. In the beginning, you have a basic sword to smash pinata.
On later levels, this sword doesn't work anymore. So, you have to use money that you have collected in the previous levels to unlock new weapons which are stronger or upgrade ammo to enhance your weapon's strength. Your character moves automatically from left to right and right to left. You are unable to control his movement but just control his attack on http://www.y8y8y8.games/. By aiming and throwing weapons at the pinata several times, you will break it and move to the next level. Make sure you avoid the obstacles in each level which stop you from smashing the pinatas.
Let's focus on upgrading and unlocking new weapons to make your destruction journey become more satisfying. Explore other games available for free on our site such as Escape From Graveyard and Guess Who
How to play:
Click or tap to throw weapons.
www.y8y8y8.games
Rating:
4.2
out of
5
based on
5
user ratings