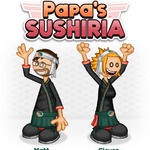 Papa's Sushiria
Play Papa's Sushiria game for free with your friends. Have you ever made sushi and drinks? Try to test your cooking ability in Papa's Sushiria at y8y8y8 exciting games in order to know you are a good or bad chef. Much fun!
Papa's Sushiria is an extremely attractive game for those loving cooking. After finishing the game at play free games. You can probably become a professional chef. Your main mission in the game is to prepare sushi rolls and drinks for customers so that you can receive tips from them. The higher scores you get, the more tips you receive.To make sushi, cook the white rice and then make them thin (follow the direction).
Next, put avaiable materials such as meats, fruits and vegetables on them, and then roll and cut them. For drinks, you will combine kinds of fruit together. Try to get as many tips as possible and then use these tips to upgrade the restaurant. Have a great time with these interesting recipes at play http://www.y8y8y8.games/ on y8y8y8.games!
Controls:
Use the mouse to make sushi rolls and drinks.
www.y8y8y8.games
Rating:
4.5714285714286
out of
5
based on
7
user ratings