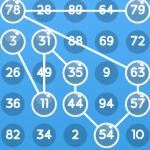 Number
Number! is a simple puzzle game with educational elements for all ages. It seems to be easy but to get a high score, you have to spend a lot of effort. If you don't like math or anything related to the number, this game will change your mind and attract you to come back again. It's also a great choice to play in the short break time. At y8y8 game y8, your main objective of all players is to earn as many points as possible within 3 minutes. You do nothing more than connecting numbers from smaller to larger without crossing lines. The numbers are from 1 to 99 and they are placed randomly. They are not placed in order. The score you get depends on the numbers you connect. For example, if you connect 1 to 3, you get 2 points and so on. You must follow a tricky rule: Do not cross the lines. So, it adds more challenges to the game. On y8 games unblocked, it challenges your hand-eye coordination.
The faster you connect, the more time bonus you have. Don't focus too much on the order and also don't try to connect every single number on the game board. You can switch between the page and keep connecting. This page will reset each time you can't connect anymore. The game ends until the time runs out. You don't have to be good at math or calculation to master this game. What is the highest score can you get? Don't forget to browse and enjoy other games on our site such as Rope Around and Where's My Avocado Draw Lines
Controls: Left click to connect numbers.
www.y8y8y8.games
Rating:
1.5
out of
5
based on
2
user ratings