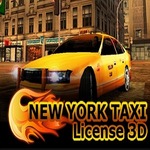 New York Taxi License 3d
You are required to pass a taxi driving test to drive a taxi because it's a standard used to ensure that your driving ability is to an acceptable level of safety. And Y8 New York Taxi License 3D gives you an exciting 3D simulation environment for you to experience the driving contest. You will have the most realistic driving experience at here. This Y8y8y8 game provides a total of 18 levels for you to complete in order to have a taxi license.
You are free to choose which level to play first. But, you should start from the first level because the difficulty increases significantly over the time. It must say that this test is so hard. You will find it difficult to pass it. You will face many challenges, so if you don't stay focused, you will fail. Each level requires you to complete a specific task. Use the minimap placed in the bottom corner in the left of the screen to make sure that you are on the right track.
Try your best to control the car properly. Stop at the red lights, take tourists around the sides, avoid every column and so on. Let's play New York Taxi License 3D to explore more about it. This car games is hard, challenging but fun and addicting. You will love it for sure. Challenge yourself with more similar games at http://www.y8y8y8.games, such as Burnout Drift. Have fun!
Instructions:
Use the arrow keys to control the car.
www.y8y8y8.games
Rating:
5
out of
5
based on
2
user ratings