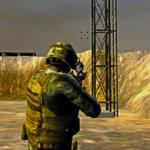 Mountain Operation
At Y8 games, there are tons of different shooting games which require you to set a different goal. If you are hungry for a new TFS game after discovering all options on our site, then Mountain Operation is the latest one for you. This is the latest third-person shooter that you can play for free anytime. Set in a mountainous location, you have to break in your enemy's base to shoot down every single of them. You will enter this battle alone with your trusted guns.
Before starting the mission, you can choose your favorite weapon among Minigun, Ak47, Ak47 with scope, M4, Aug, Vintorez, and Machinegun. Your first mission is to kill 5 enemies. You can track them by looking at the mini-map located in the upper right corner. They are shown up with the red arrows.
On http://www.y8y8y8.games/, you must use the object around the environment as a cover to avoid all bullet from your enemies. Quickly move to the safe place and take the chance to show up and shoot your enemies. Lock the enemies and send them a rain of bullets. Be careful, you just have a limited amount of blood. And you don't have any medkits or power-ups to aid you in the battle. During the fight, you can switch weapons to deal with each situation.
Finish the current mission to unlock the new one and it's your turn to show off your skills. Do you need to shooting games as awesome as this one? Many choices are waiting for you to explore such as Dinosaur Hunter Survival and Transmorpher 3
Controls:
WASD/Arrow keys to move;
Left Shift to run;
Spacebar to jump;
C to crouch;
LMB to fire;
RMB to Aim;
Mouse to aim and shoot;
R to reload weapon;
2/3/4/5/6/7 to switch weapons;
G to use grenade;
F to get in or get out the car.
www.y8y8y8.games
Rating:
3.4285714285714
out of
5
based on
14
user ratings