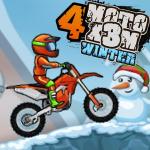 Moto X3M Winter
Moto X3M 4 Winter is the fourth instalment of the awesome Moto X3M series that you can play here on y8y8y8 free games. In this title, you must control your bike through a series of winter wonderland themed levels covered in snow, pines trees and festive decorations. The controls remain the same - use the up and down arrows to accelerate and brake, and the left and right arrows to title forwards and backward.
Control your bike and make your way through each level - the tracks are imaginative and fun with loads of cool obstacles and jumps. Try and complete as many flips as possible to gain a score boost and to complete each level with 3x stars. Use the stars you earn to unlock different bikes. Can you complete all the 15+ levels and prove your biking skills?
We keep updating other driving games in your favorite theme like Moto X3M 2 and Moto X3M 3. Each game is shared at http://www.y8y8y8.games/. Please invite your friends to join their favorite games on our website right now. You have the new journey to explore.
Controls:
W or up arrow to accelerate
S or down arrow to brake
A or left arrow to tilt left
D or right arrow to tilt right
Space bar to continue race
www.y8y8y8.games
Rating:
4.0740740740741
out of
5
based on
27
user ratings