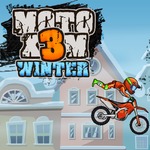 Moto X3M 4: Winter
Moto X3M 4: Winter game open up a beautiful winter scene with snow and freezing rivers. Y8y8y8 flash games chooses this game for racers who love challenging roads. You do not know what awaits you ahead, but you are prepared to overcome the various challenges. Move skillfully and keep the balance on the motorbike so you do not fall over. If you fall, the game will end.
In addition, you can return to the previous game by using the Space button. Along the way in this game, you will collect gold coins to unlock more items for the next level. Level of difficulty will increase. So you need to focus and adjust the bike so that the car is not overturned off the track and fall into the water or across the whole corner of the rock.
By that time you will become a loser and have to start playing the game again. http://www.y8y8y8.games offer racing games for you to take on as challenging as Riders Feat. If you are ready to start a new journey, choose a Moto X3M 4: Winter racing game in this winter.
The browser will automatically save your previous play, so you can play the game comfortably. We always bring new and useful games to players of all ages. Do not forget to read the instructions and some tips before starting the game. Get ready for the exciting motorcycle race! Try now!
Controls:
Use the up arrow to go, the arrow left and right to adjust the balance of the motorcycle.
www.y8y8y8.games
Rating:
4.625
out of
5
based on
8
user ratings