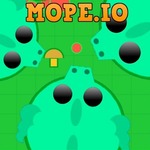 Mope.io
Mope.io game: This is an amazing Multiplayer iO game for free focusing on eating foods and survival at y8y8y8 games. Come and play Mope.io at Friv Land to eat as much as you can in order to survive. Have a ton of fun!
Mope.io is a new and extremely interesting multiplayer IO game which is suitable for all ages, especially children on y8y8y8.games. In the game at y8 games for kids, your main objective is to survive by eating as much as possible. You will start off as a tiny mouse – the bottom of the food chain – and you have to move along the battlefield where you will see countless light green-outlined objects. Play game and rate it now!
Try to eat all of them, but be careful, stay away from all the objects outlined in red or your character will get eaten. Upgrade your tiny mouse into a rabbit, a pig – and you can eat mushrooms – and other powerful animals. Do you dare to stay alive until your character transform into a dragon? Go ahead and dominate the battlefield at http://www.y8y8y8.games/!
How to play:
Click the left mouse to run
Use the W key to dive or activate ability
Press Enter to start in-game chat.
www.y8y8y8.games
Rating:
2.6666666666667
out of
5
based on
3
user ratings