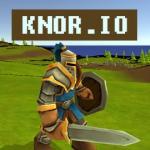 Knor.io
Knor.io is a multi-player io game that you can play on y8 io 2020 games. You will play the role of one of the knights who are trying to protect the land from the ugly orcs. Fight your way through the attacks with the sharpest sword! The task is to move very quickly the moment you put a step on the land. Then, search for the orcs to kill them off.
This IO online game is a 3D multiplayer battle game that shows the cool side of both knights and orcs. Getting to the top of the Leaderboard is the main goal of Knor io at http://www.y8y8y8.games/. If you think it's easy to conquer this challenge, you are mistaken. It takes serious endurance to roam the map while avoiding the dangerous herds for a long time, as well as the bravery to fight off the strong orcs. It's also the perfect chance for you to demonstrate your techniques in swinging the sword. Many players will start hunting you at the monent you get on the first place in Knor io.
In addition, you can hardly miss how to participate in many other exciting new games similar to Happy Snakes and Bighero.io. Your world will be filled with the most special things.
Controls:
Use WASD or arrow keys to move and fight
Left mouse to attack
The space bar to jump
Shift key to run.
www.y8y8y8.games
Rating:
4.4285714285714
out of
5
based on
7
user ratings