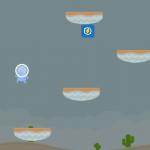 Jumpy
A cute character who loves jumping awaits for you in a fun and challenging game called Jumpy. This is the latest game at y8y8 game y8 promises to bring you hours of fun. An adorable alien wants to go up high to the sky. However, they can't fulfill his dream without you. He needs your help, so he can avoid all obstacles along the way and jump higher and higher without falling or crash into deadly traps.
The control mechanism is simple, you can tap or use your mouse to control your alien jumping through all platforms, collect coins and avoid obstacles along the way. Make sure he lands in a safe platform. Otherwise, he will fall. Furthermore, some bees are flying across. If this alien crashes into them, he also dies. Remember to dodge all dangerous things. However, you also have some useful items that help you boost your speed and more. At first glance, you may feel this game is simple and easy but once you start playing, you soon know how challenging it is.
On y8 game new , to achieve a good result, it's not as easy as cake. You may have to play several times. If you fail after a few jumps, don't get mad. Practise makes perfect. Your skills will improve through each failure. If you get bored when playing alone, you can challenge your friend to find out who has a better result. add the competitive factor to the game and you will find it become more fun. Besides, don't forget to explore other choices such as Tyra Runner and Run Around Online
Controls: Tap or use your mouse to jump.
www.y8y8y8.games
Rating:
5
out of
5
based on
4
user ratings