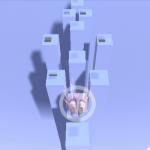 Hop Fun Scotch
Relive your memory of the childhood with a traditional game that many of you have played at least one time – Hopscotch. Have you ever played this game? Of course, you did. Now, it's time to explore a refresh version of it in Hop Fun Scotch at y8 unblocked You will find all similar features as well as the unique ones in this game. If in the hopscotch, you play with a court laid out on the ground and it's included a series of linear squares, then here, you will play in the air where each square is a column.
This means if you miss a step, you will fall. These squares don't stay still but it continuously moves. You must spread your feet or hold them together to hop forward without falling. It's a true challenge. Whether you win or not depends on your reflexion. For example, when 2 columns don't stick to each other, if you hold your feet, you will fall on the gap between 2 columns. And if 2 columns merge and you spread your feet, you also fail. So, the key point to win on y8 co m new games is to stay focused and hop at the right time. Remember that your character auto hops forward. You can stop or change the direction, just spread and vice versa. If you know the rule, let's master each hop and set your record in this fun hopping game. It looks simple but it's truly challenging.
Get ready because the difficulty level increases significantly as the game processes. Good luck and have fun! Don't forget to discover a wide collection of games on our site. Some of the best ones for you are Frenzied Cube and Wobble 3D
Controls: Click to hop.
www.y8y8y8.games
Rating:
5
out of
5
based on
1
user ratings