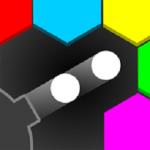 Hex Blaster
Hex Blaster is a fun shooting and puzzle game challenges your skills in shooting all hexagonal balls to have numbers. The bigger the number on the ball, the harder it is to shoot down. On y8 new games, you can find many genres and tons of games to play and this is a must-played game that you can't miss. These are many reasons make you want to play this game. It's fun and enjoyable. It's simple but challenging. It doesn't require you to spend much time and effort to learn about how to play. So, are you ready to deal with challenges in this game?
Let's start. Your main objective here is to get as many scores as possible. You have to pop every single hexagon before they reach the bottom of the stage. As you level the speed of this hexagon army increases. You will find it hard to complete the mission. However, you have some useful power-ups to help you defeat them. Aim and shoot at these items to blast through tons of hexagonal balls. Aim to destroy the balls have bigger number first.
At http://www.y8y8y8.games/, you also find new content added regularly. After conquering this game, don't forget to search and find your favorite ones or try out our suggestions such as Helix Jump and Idle Balls. Don't forget to open gifts to get some useful items as well as challenge yourself with other modes in the game. Earn a lot of points and diamonds! Have a great time here!
Instructions:
Aim and shoot with your mouse.
www.y8y8y8.games
Rating:
4
out of
5
based on
3
user ratings