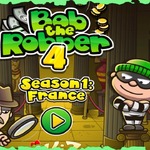 Help Bob the Robber 4
This is the chance for you to become a bad person. Ha-ha! Does this sound so strange? Discover a new life and unique experiences with Bob the Robber 4 Y8 at Y8y8y8games now. In this game, you will become a thief and your task is to steal a large amount of money, materials and precious items in the house.
However, this task is not easy for you because there are so many challenges and protectors around the rooms. In particular, the most valuable and important products in each level will be hidden in strategic locations with strict protection at Y8y8 game. So, before starting each level, you should watch carefully and find the perfect path and precise strategy to overcome the challenges ahead. How to overcome these challenges in Y8 Bob the Robber 4?
All you need to do is to move carefully to avoid cameras, guards and malicious zombies, remember the code to unlock and escape safely from the house. One more thing with Y8 2018 games, try your best to make a lot of money and buy support tools to pass each level in an easy way. Are you ready to challenge your intelligence? Go ahead! Play more with other games such as Bob the Robber mobile and Bob The Robber 3 at Y8y8y8.games
Controls: Use arrow keys or WASD to move and interact with your character.
www.y8y8y8.games
Rating:
2.6666666666667
out of
5
based on
3
user ratings