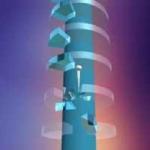 Helix Up
You may have played a lot of games in which you lead a ball to go through a tower with tons of layers. However, you normally go down, how about going up this time. Instead of leading a bouncing ball jump from the top to the bottom, you move up from the bottom to the top in Helix Up at unblocked games y8. It sounds that there is nothing new, but you will get addicted soon. If you don't believe it, let's try some levels and find out how awesome it is.
Simple but challenging, you won't control directly the ball but you rotate the tower. The tower is made of many layers of glass. Each layer is a round disk with a small part of the glass. Your mission is to rotate the tower in order to lead the ball to go through these parts. They also play as the platform to make the ball keep jumping up each step. You earn points for that.
Make sure you lead the ball breakthrough several layers to get extra points but if you miss a bit, the ball will fall down and you have to play again from the beginning. On http://www.y8y8y8.games/, you will have an unforgettable relaxing experience ever. Apart from the games forge you think and learn the rule or spend too much time grinding, this is the best choice for those who love something easy, simple but still challenging.
Advance in the game and you have to face more challenging levels later on. Make sure you stay focused. Have fun with other games such as Hex Blaster and Helix Jump
Controls:
Left click to jump up.
www.y8y8y8.games
Rating:
3
out of
5
based on
1
user ratings