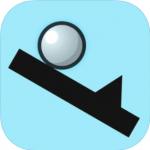 Go Escape
Games with simple but addictive concepts now become a massive hit. Players love them because they don't have to spend to much time learning how to play. Easy to play but hard to master, Go Escape is one of the newest additions to the puzzle genre that keeps players immerse due to its awesome gameplay and tons of levels. You can't wait to play until the last level. However, to reach the final stage, you have to put a lot of effort because it's not easy.
At y8y8y8 free online juegos, your mission in each level is to lead a small falling ball to the last standing platform without touching any spikes along the way. If you, unfortunately, make the ball touch one of those spikes in an effort to help the ball go to its goal, your ball will explode and this level ends immediately and you have to start from the beginning once again with a perfect ball.
You should expect that as the game processes, you will find it much harder to complete your mission because many challenges are waiting for you ahead. Later on http://www.y8y8y8.games/, you will deal with new kinds of traps and obstacles. You must skillfully direct the ball to where it needs to go. Jump from this platform to that platform, control your speed to keep the ball safe. Don't rush.
Play slowly because you have unlimited time to play. Have many levels do you complete in a row? Test your skill and have a great gaming experience with other choices of games such as Hungry Shark and Tic Tac Toe Office
Controls:
Click to jump.
www.y8y8y8.games
Rating:
3
out of
5
based on
1
user ratings