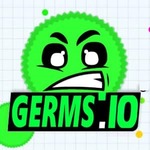 Germs.io
Like other io games, you enter an arena filled with a group of online opponents aiming to beat each other to be no.1 of the leaderboard, Germs.io is an addicting game with exactly that gameplay. Here at y8 games for school, you're dropped in a thrilling survival battle in which you have to compete for other players for survival. In the beginning, you play as a small cell and you must move around the map to collect as many colorful dots as possible to grow up.
As you are small in size compared to other players, you should focus on eating these delicious dots and running away any enemies who are bigger than you. Otherwise, you are eaten. When you are big enough, you can chase down smaller opponents at y8y8 games. Basically, your objective is to absorb smaller cells, grow in size, avoid those who are bigger than you and live as long as you can. The game allows you to choose your favorite skin to customize your character. So, just go for the one you love.
Besides, Germs.io has a chat system that allows you to chat with other players. If you're bored and need a game to cheer you up, this game is a great option to enjoy. It's the simplest and most addictive game you'll ever play for sure. Hope you have a great time at here. There are many games available at http://www.y8y8y8.games for you to explore. You should try these following options, including Slither.io. Enjoy!
How to play:
Use the mouse to move your character.
www.y8y8y8.games
Rating:
3
out of
5
based on
2
user ratings