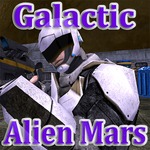 Galactic Alien Mars
Galactic Alien Mars is an online FPS game set up in the space. Our beautiful galaxy is under attack from the space intruders. They begin the invasion process from Mars. Your objective in this y8 game is quite challenging as you will have to save the galaxy from the evil enemies with other players around the world. Team up and together defeat the aliens. In the beginning, you choose your side as a soldier or an alien.
After that, you choose which server to play on and start the battle. As a soldier, you and your teammates are sent to an epic battle on Mars. Hold your gun tightly and pull the trigger whenever an alien appears. Avoid the bullet of your enemies by hiding behind the covers. During the battle, you can switch the weapons to suit your playing style. Each battle has a time limit. In the end, the team with the higher points is the winner. Here, when you play as an alien, you and other aliens have to kill all soldiers. Human is destroying the space with their research and experimentation. They build so many things on Mars and are going to expand to other destinations. As a citizen of this universe, your species can't let them keep doing like this.
So, your team enters the arena with a powerful weapon in hand, you will not let a single soldier survive. In Galactic Alien Mars, whether you join the side of the human or the alien, you have to try your best to shoot down all enemies. Hope you have a great time at here! Many interesting games are waiting for you at http://www.y8y8y8.games, Let's experience these following options and you will love them Adventure City.
Instructions:
Use arrow key to move and mouse to aim and shoot.
Press 1, 2 to change your weapon
Esc to exit.
www.y8y8y8.games
Rating:
2.6666666666667
out of
5
based on
3
user ratings