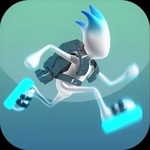 G-Switch 3
G-Switch 3 is a free game that allows you to play online at our website without registration on y8y8y8 games. The G-Switch series game which you have been waiting for a long time comes with the 3rd version! This new chapter features many updated functions as well as the more beautiful display.
In this game, you are able to control the gravity which you can't do in the real life. Thus, you will gain many strange experiences due to the ability to run on any terrain. A long tournament which is full of racers with hazardous traps is waiting for you. The "Play" button is yours.
Before playing, choose your favorite mode from one player mode and multiplayer mode in y8 online. If you play with one player mode, you have to run against the computer. Try your best to run as far as possible to gain the highest score and rule the hard race. Besides, if you start the game which is played by multiplayer mode, it means that you have started a tournament with two other players or more.
In this mode, you have to fight against one, two, three or even eight players. Eight characters have different designs and colors. Pick the infatuated one to start the game. Besides, with the multiplayer game mode, you are going to use booster and cloning. Keep running and jump at the right time to overcome all the obstacles and switch the gravity to pass all 8 checkpoints of y88 online.
Invert the gravity when reaching the endpoint of the platform to land on another platform safely. Furthermore, you must avoid the sawblades because they make you die. The person who goes further gets more points. Hence, leave the opponents behind and reach the goal to win the game. Find other action games for all ages on http://www.y8y8y8.games/action-games
With more beautiful 3D graphics and new interesting characters, the game promises to bring great experiences for you. Rate and evaluate it to make the surprising contribution to us. Share and invite your friends to compete in the racing contest. Play more games like Strike Force Heroes 2 at y8y8y8.games!
How to play: Use up / down arrows to switch gravity.
www.y8y8y8.games
Rating:
4.25
out of
5
based on
8
user ratings