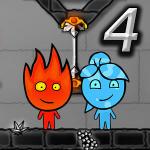 Fireboy and Watergirl 4 Crystal Temple
Fireboy and Watergirl came back in the latest platform game of series Fireboy and Watergirl - Fireboy and Watergirl 4 Crystal Temple. Water and Fire can't mix with each other but Watergirl and Fireboy are an inseparable couple. Now, they embark on a new adventure in the ancient temple. Do you want to join them? At y8 games for boys and girls, you will see a maze of the temple with many levels, you must complete 4 first levels to unlock the next one.
You can play alone as you control both characters or play with your friends and family. Remember that water is a threat to Fireboy and fire is a threat for Watergirl. You must avoid these obstacles to help both of them go to the exit safely. Besides, the green pool can kill all. Make sure you lead 2 characters to the end of the journey in each level successfully. If one of them dies, the game is over and you have to start once again.
On http://www.y8y8y8.games/, don't forget to collect diamonds along the way. If you play alone, you should control one character each time until you need both of them to reach a certain spot to process. Walk, jump, climb, do whatever you need to do to finish the current level to move to the next one. Each level offers different obstacles. Be ready to deal with them.
If platform game is one of your favorite genres, you should check out The Forest Temple - FireBoy and WaterGirl 3 and The light temple - Fireboy and Watergirl 2 after conquering this one. Have a safe trip with 2 lovely heroes!
Control:
Use arrow keys to control Fireboy and WASD to control Watergirl.
www.y8y8y8.games
Rating:
3.5
out of
5
based on
18
user ratings