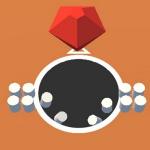 Eat Up 3D
Eat Up 3D is a great combination of different game genres including puzzle, racing an action game. The rule of this game is straightforward. You control a bottomless hole with the aim of swallow everything along the way and reach the finish line before getting caught by a horde of black creatures behind. There are some games similar to this one in which you have to eat all white blocks and avoid the colorful blocks.
However, the gameplay is slightly different. At y8 games 2 player, you can eat all colorful blocks without avoiding any of them. And you just have to eat as many shapes as possible instead if eat every single of them. Just collect the right amount of block to move to the next stage. You must meet 3 requirements to unlock the new level. Firstly, you must eat enough colorful blocks. Secondly, you must be the first one who reaches the finish line.
The final requirement on http://www.y8y8y8.games/ is that you move forward and eat blocks without getting caught by your enemies. A horde of black creatures will chase you behind. If you let them pass you, they will ruin all blocks which makes you can't get enough shapes to play the next level. So, make sure you leave them far behind to win the match. This game is relaxing and challenging as well.
With simple gameplay and one-touch control, everyone can enjoy this fun game. Don't forget to explore the game world on our site. Some of the best choices for you are Tricky Taps 2 and Links Puzzle
Instructions:
Use left click or your finger to control the hole.
www.y8y8y8.games
Rating:
5
out of
5
based on
1
user ratings