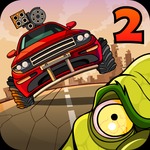 Earn To Die 2012: Part 2
Your journey continues in part 2 with a challenge against the zombies to reach the final destination. You are playing Earn to Die 2012: Part 2 with y8y8y8 online games. In this game, the player acts as the last survivor of a zombie land and he is looking for a way to the military base where there are other survivors.
First, the player chooses the car he wants to use with different weapons for the car, then, he will drive the car out of the zombie circle. There are lots of zombies going towards you. Also in the second part of this game, you must overcome the obstacles on the way by moving quickly through bridges, bomb barrels, and wooden bridge paths.
If you do not move fast, you will be stuck in those obstacles. Get ready to challenge the zombies to Earn to Die 2012: Part 2 online today. With the money you earn, new weapons and vehicles will be upgraded to the next level. The number of zombies is more and more at the harder levels.
Move fast and have enough fuel to get to the end. You survived or zombies eat you. Which life do you choose? Continue to fight and complete the game with the harshest challenges. We also have other zombie games for you to explore more such as Earn To Die on http://www.y8y8y8.games. Do not miss this opportunity!
Controls:
Use the arrow keys to move your car.
www.y8y8y8.games
Rating:
4.2727272727273
out of
5
based on
11
user ratings