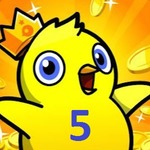 Duck Life: Treasure Hunt
Duck Life 5 - Treasure Hunt is a fast paced game where kids must collect as much treasure as possible while maneuvering through a cave full of obstacles.
The most popular ducklings on Earth are back in the spin off to the #1 best selling game on juegos de y8, Duck Life.

After the Fire Duck was defeated, the erupted volcano revealed an ancient cave, and treasure is inside! Are you ready to take the challenge and explore the cave? Are you swift enough to survive in this fast paced action adventure! In fact, this is the most epic adventure in the DuckLife world yet!

Wait a second, don't tell me you haven't taken on the Fire Duck yet? You may want to check out our first app, Duck Life. Become a part of the history!
We also suggest giving players interesting games that you can explore in your free time similar to this game like Duck Life: Space. You are still hesitant. Anything else without unlocking all adventure games today.
KEY FEATURES:

• Run, jump and fly through the ancient cave as you try and collect as much treasure as possible
• Complete special challenges and become the ultimate cave explorer
• Fast paced action! Are you swift enough to survive?
• Dress your duck in crazy hats and give them awesome clothing!
• Adorable pets
• Adorable characters
• Outstanding graphics
• Captivating music
• Upgrade your duck with crazy gadgets to help you explore further
• Race against other ducks all over the world! Will you be the best treasure hunter? (Coming soon)
www.y8y8y8.games
Rating:
5
out of
5
based on
1
user ratings