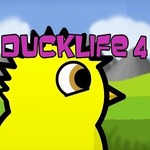 Duck Life 4
DuckLife 4 game: This is the 4th great Duck Life game of 2018! Train your duck to be the champion of the racecourse in DuckLife 4 at y8y8y8 flash games. Train the duck to be a champion racer so that it can win back the farm. Create a team of the best racing ducks out there. Have fun!
Duck Life 4 is the fourth instalment in the fun and popular series of duck training games. In the game, your mission is to feed your duck, equip him with a variety of accessories and train him to be the champion racer. Choosing between a team of ducks or only one duck is up to you.
Run, swim, fly, collect coins, compete other ducks in the racing tournaments and rock the leaderboard. It sounds fun, doesn't it? What are you waiting for? Play at http://www.y8y8y8.games/ to play and prove to your friends you're the best trainer on the planet. Try other similar game as Duck Life 3. Enjoy!
How to play:
Use the UP arrow key to jump while your duck is running
Use the LEFT/RIGHT arrow keys to guide your duck while he's flying and use the UP/DOWN, LEFT/RIGHT arrow keys to steer him in the water.
www.y8y8y8.games
Rating:
5
out of
5
based on
1
user ratings