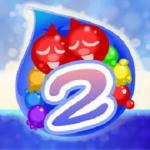 Bomboozle
Welcome back to Bomboozle series. In this game at y8y8y8 puzzle games, your mission is to clear the island of as many blobs as you possibly can, before you run out of moves. Draw your way into a fun situation. This game has many levels, with each level being a different island.
Blobs can be cleared by clicking a group of 3 or more blobs with the same color. You can also select a group by holding the mouse button to draw a line, then let go to clear the group. A group of 5 or more is rewarded with a bomb which is very handy for clearing lots of blobs at a time; just double tap the bomb to make it explode. Learn to use bomb's explosion pattern to your advantage.
Wildcard blobs will match with any colored blob, but not skulls, bombs, or frozen blobs. Get the treasure chest to the bottom of the board and thousands of points will be yours. The treasure increases in value every time you collect it; just be careful not to blow it up. Later in the game you will come across frozen blobs which must be blasted to release the blob inside. You'll also discover mega skulls which take two hits to dispose of instead of the usual one. Good luck and have fun!
Want to play more escape games? Here are some recommendations for you: 94% Online and 20 Deluxe. Or if you want to try other types of games, check out at our site http://www.y8y8y8.games and you can easily find out what you need just with a few clicks.
Controls:
Use the mouse to conncet three or more shapes
www.y8y8y8.games
Rating:
5
out of
5
based on
1
user ratings