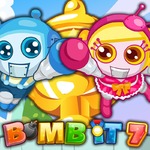 Bomb it 7
Bomb it 7 game is back!- a new chapter of Bomb it series is now available at Y8Y8Y8 flash games. Place more and more bombs to eliminate your foes. Choose your favorite game mode and bomb all your opponents in this sequel to the popular game Bomb It. Enjoy!
If you have conquered all the previous seasons of Bom it series, now it's perfect time to dominate new Bomb it 7 at game y8y8. More functions, more fun, it never lets you down. At this chapter, you will have a lot of new playing modes which bring you hours of joy which are Arcade, Destroy all enemies, Battle Royale, Destroy 10 enemies, New - Pacman, Collect 100 coins, Star collector, Collect all stars, Iceman, and Freeze 10 monsters. Each mode has its own unique. You can walk through them all, can't you? Let's place tons of bomb and defeat every enemy. Find other kids games at http://www.y8y8y8.games/kids-games
More interestingly, you don't have to control character with default cloths anymore. You will have a chance to deck it out with many fashionable outfits. If you want to play more similar games, jump into the y8 games for kids online and check out Bomb It 4 on y8y8y8.games. Much fun!
Controls:
In single mode, use arrow keys to move, Spacebar to place bomb. In 2 player mode, use WASD to control player 1 and Spacebar to drop bomb and the second player uses arrow keys to move and hit Enter to release bomb.
Best Bomb It Games:
Bomb It 2
Bomb it 3
Bomb It 3
Bomb it 4
Bomb It 5
Bomb it 6
Bomb It Arena
Bomb it kart racer
Bomb It Kart Racer
Bomb it mission
Bomb It Mission
www.y8y8y8.games
Rating:
1
out of
5
based on
2
user ratings