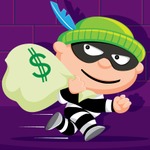 Bob the Robber mobile
Bob The Robber mobile: Pull off heists and walk away with huge rewards! Help Bob gather some evidence against these mobsters and corrupts on y8y8y8.games.
He's like the modern Robin hood of the town. Only him can save this city from these criminals. You can play the game on smartphone and tablet (iPhone, iPad, Samsung, Android devices and Windows Phone). The best online games website has many more games on y8 2017 games!
★ GAME FEATURES:
✔ Sneak - Use different sneaking strategies to escape the security guards.
✔ All new levels, tough enemies, and cool gadgets
✔ Great graphics, fantastic music, and fun gameplay!
✔ The game has been built and optimized from the ground up for mobile devices!
✔ Totally free, play all levels with no in-app purchases or surprise payments
www.y8y8y8.games
Rating:
5
out of
5
based on
2
user ratings