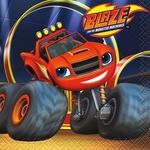 Blaze And The Monster Machines Memory
Blaze And The Monster Machines Memory at Y8y8y8 kids games is one of the most attractive puzzle games in which you will have to solve the same tasks at different levels. In this game, your task is to search and connect the same icons on the screen. If all these icons have been opened, this task is too simple for you.
However, they are all hidden, each time you click on them, they only open for a few seconds, then they are closed. So, you have to memorize the icon and its location on the screen to find similar pieces. There are 6 levels for you to explore and experience in this exciting game. In particular, in each level, you will have a target and required stats. For example, for level 1, you will have 40 seconds and 6 symbols, with level 2, you have 70 seconds and 8 symbols.
The number of seconds and number of symbols will be significantly increased after each level. This means that the level of difficulty of the game will also increase. How many levels can you pass in Blaze And The Monster Machines Memory? Play the game and find the answer. In addition, we suggest you some other interesting games like Cars Traffic Control at http://www.y8y8y8.games
Controls:
You only need to use your left mouse to play the game.
www.y8y8y8.games
Rating:
3.2857142857143
out of
5
based on
7
user ratings