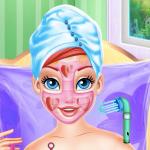 Ariel Double Eyelid Cosmetic Surgery
Such a bad day for Ariel. She has beautiful eyes but her eyes now look like 2 walnuts. They are swollen and Ariel can't open her eyes. Unfortunately, she has a date tomorrow. She can't appear with swollen eyes in front of her special friend. Your mission in Ariel Double Eyelid Cosmetic Surgery at unblocked y8 games is to help her perform double eyelid surgery and give her a perfect makeup look. First, let's deal with those swollen eyes. All needed tools are well-prepared. You perform each step following the detailed instructions to finish each mission to advance in the game. Her beautiful double eyelids have come back. After her eyes are healed, the second problem that you have to solve is the pox on her face. The pox can be removed by using a mark and the right treatment. So, give her a treat, so her skin becomes bright and smooth as usual. Clean her face, let her wear mark and remove pox. Do everything necessary to make her skin smooth and look glowing.
On y8 unblocked , your final mission is to make up for Ariel. She is going to meet her prince. So, make her look awesome and fabulous with a gorgeous makeup look. You have all the cosmetic products on the take. Now, it's time to show off your makeup technique and skills. Mix and match the shade of color of every product to bring out the best look. This game is fun and easy to play, so it suits every player of all ages. If you want to discover more stories of stunning princesses, you can visit our site and explore Elsa First Bad Girl Tryout and Nail Doctor
How to play: Use your mouse to perform all actions.
www.y8y8y8.games
Rating:
3.5714285714286
out of
5
based on
7
user ratings